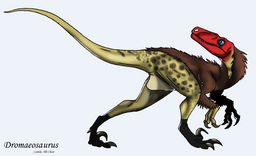 CAMILA ALLI CHAIR DID NOT GAVE HER PERMISSION FOR THE ADMIN TO USE THE ARTWORK
CAMILA ALLI CHAIR DID NOT GAVE HER PERMISSION FOR THE ADMIN TO USE THE ARTWORK
Dromaeosaurus is the raptor that gave its name to the Dromaeosaur family. It was a pretty small animal, about the size of a grey wolf, but it had quite a bite! A recent discovery showed that Dromaeosaurus had a bite 3 times more powerful than a Velociraptor bite. Unlike Velociraptor, who had more blade-like teeth, Dromaeosaurus teeth are more robust. Because of this, it probably hunted prey that was bigger than prey Velociraptor hunted.
Community content is available under
CC-BY-SA
unless otherwise noted.